Server Management Systems/BMS
Controller
Gateway
User Interface
Module
GUI Software
StarAxiom offers 
SERVER management system/BMS
which is the industry known, innovative and end-user focused.  The solution's heritage continues today in the design and delivery of the most intuitive, user-friendly SERVER/Building management systems available. Providing operational and comfort data at a glance, it's powerful scheduling, set point and advanced control algorithms made energy optimization simple, and a comprehensive.   The
uniquely powerful graphical programming tool
eliminates line-by-line programming which is still used by many systems today. It elevates the standard for design, performance and reliability for the sequences you care about.
Our solution is the most technically advanced SERVER/Building automation system on the market today, brings this power and user-friendly functionality to the user's
computer or cell phone Web browser
, providing unprecedented control and ease of use.
StarAxiom continues to strive to provide quality, convenience and ease of use — effectively putting control back in the hands of the end user.
System Architect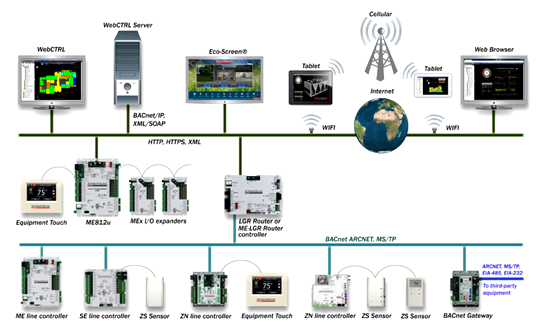 Software
StarAxiom has long been known for its intuitive, powerful front-end
SERVER/BMS control software
. In fact, our solutions has pioneered graphical programming in the industry. With our graphical user interface, users have such features as hierarchical scheduling, thermo-graphic color floor plans, trending, alarm management, and reporting. And with our web-based building automation system, all of these features are available through a standard web browser – without any special software or plug-ins.
Time-lapse
is a revolutionary new feature  that allows operators to roll back time, up to a 24-hour slice, and play back hours of real-time data in just minutes. This innovative feature provides a quick, visual indication of any problem areas and gives facility managers a strong diagnostic tool to quickly identify and correct issues that impact energy efficiency and comfort.
Our
Environmental Index
provides a simple and effective solution. Starting with temperature as a key component of comfort, the Environmental Index , expressed as a percentage, reflects how close the zone temperature is to the effective heating and cooling set points. Accessed through a browser using WebCTRL, the EI is shown on an easily read analog gauge, using the red segments to indicate poor environments, and graduating to green as conditions improve and the EI begins to approach 100%.
Reports,
flexible and easy-to-use reporting tool that enables facility managers to produce a wide variety of reports showing a building's energy consumption. Using color graphs, Energy Reports allows users to compare energy consumption or demand over different periods with simple drop-down menus and calendar control options. This gives facility managers a powerful tool to minimize energy consumption, maximize comfort, and achieve sustainable building operations.
The most advanced graphical programming tool in the industry, replaced line-by-line programming with universally understood symbols to construct both standard and custom control algorithms. All of this combines to make the most intuitive, feature-rich, easy-to-use product on the market.
Hardware
Our offered hardware is as durable as it is functional. For effective oversight and quality assurance, our products are designed and assembled at worlds best  facilities. Our products contain the most advanced microprocessors and co-processors to ensure high-speed communication; flash memory for simple remote upgrades; high-resolution inputs and outputs for precision control; and built-in surge and transient protection circuitry for reliable operation. All of our products feature cost-effective, modular construction and meet stringent UL, FCC, CE and BACnet Testing Laboratories (BTL) specifications.
Network Router designed to route information between various BACnet datalinks, including IP, Ethernet, ARCNET 156kbps, MS/TP and PTP, our high speed router is extremely powerful and can connect hundreds of control modules to a BACnet/IP backbone.
LGR – High Speed Ethernet Router
Equipment Portal – Powerful Gateway
Control Module  Automated Logic's line of control modules include multi-equipment application (ME and M line), single-equipment application (SE line), and unitary-equipment application (ZN line) controllers, lighting controls (LC line), as well as a router/controller module, and BACview®, our operator interface keypad.
Modules have various compliance listings including UL, UUKL (Smoke Control), CE and FCC.
System integration
StarAxiom is committed to
open systems and seamless system integration
, providing innovative solutions for integrating HVAC, mechanical, lighting, security, fire and other building systems. The Open Systems Integration resume shows just some of our innovative third party integration solutions.
Open advantages
We believe in
open, non-proprietary systems and open standards
because they're efficient, flexible and cost effective. Open architecture allows us to easily integrate and customize your system using a combination of innovative components. This open approach provides unique, scalable solutions for both remote, web-based operations and multi-system control from single workstations.
Our native-BACnet® open architecture is compatible with your existing IT infrastructure and provides superior flexibility, security and performance to address any size application from a single building site to multi-building campuses in multiple locations.